I am currently developing my work following the Romanian trip.  It was an interesting and challenging experience.  We drove there and back and it is a very long way.  Romania, once you get there, is a huge country and Valeni is in the remote North East beyond the Carpathian mountains.  Valeni itself is isolated, the nearest town with shops is a 50 minute drive over some unmade up roads.  In fact its isolation is quite difficult to imagine in advance for anyone coming from England.  The manor house has been beautifully restored to its former glory by Michael, Baron de Styrcea, whose ancestral home it is.  The studio is in an adjoining building, once the estate manager's house.  There are remnants of the communist era with vast cowsheds and a water tower.  The village of Valeni consists of small attractively painted houses of one storey, each in a compound with fruit trees, poultry, a cow, a couple of pigs.  The Valeni priest took us to visit several of these houses and we were very touched by the friendliness, dignity and generosity of the villagers.  They are the last generation who have the skills to be self sufficient and it is sad but inevitable that their children have gone to live in cities in Romania or even other countries.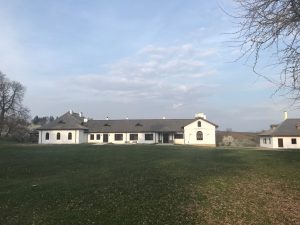 The landscape is vast and unfenced so that there are still flocks of sheep roaming freely with an attendant shepherd and several notoriously fierce sheepdogs.  Horses and carts are a common sight.   Around Valeni it was  rolling agricultural country, with some areas of forestry.  We went further North  to Bukavina near the Ukrainian border, to visit the medieval painted monasteries.  Here it is mountainous and forested with majestic passes through the mountains.  The monasteries are unique, painted on the outside walls as well as inside with Biblical scenes of Heaven and Hell, and tucked away in remote locations.  They are still in use as monasteries, sometimes run by monks and sometimes by nuns.  It was the Orthodox Holy Week while we were there and we were fascinated by the call to prayer, played on the wooden toaca.
Romania is scarred by the Ceaucescu era – the dictator planned to herd the peasants off their land and into concrete blocks of flats in the towns.  Communist concrete is everywhere, along with derelict factories and industrial plants.  Now there is more freedom to build many of the houses are ugly and half finished and there seems to be little planning control.  All the more credit to Michael de Styrcea for so lovingly renovating his family's home with such taste and discernment.
While I was there I filled a sketchbook, made some drawings and took a lot of photographs.  I needed time to assimilate the experience and have returned to my studio to develop ideas and themes which have gradually suggested themselves.  So more of this as time goes on.
June 4 2019