A second exhibition with my sister, the potter Molly Attrill, opens in the Clayden Gallery at Quay Arts, Newport Harbour on Saturday 6 July and runs until 27 July.
We collaborated in April 2017 when we focussed on the small stretch of coastline on the Southern tip of the Isle of Wight where we grew up.  This time we have left ourselves free to explore our own preoccupations.  In Molly's case, she is showing new pots in the traditions of earthenware slip and maiolica.  She has recently been included in an exhibition in Tokyo which traced the influence of Bernard Leach on contemporary potters.  My focus moves inland from my native Island to my present home in Malvern, Worcestershire.  Just over the Malvern Hills and across the border into Herefordshire we have 10 acres of land where we have planted an orchard of traditional local apples.  I am showing works describing this landscape.
Here is a new painting Crows in the September Orchard which will be shown for the first time in this exhibition.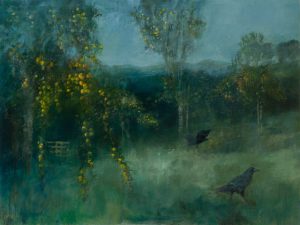 3 July 2019